Now
Look to the present and immediate needs and explore what is currently available
Now is very adept at identifying details about something that is happening right now and can be acquired through the five senses. People using NOW tend to be very aware and in the moment, seeking tactics that they can implement right now. Now looks to the present and the immediate moment for solutions.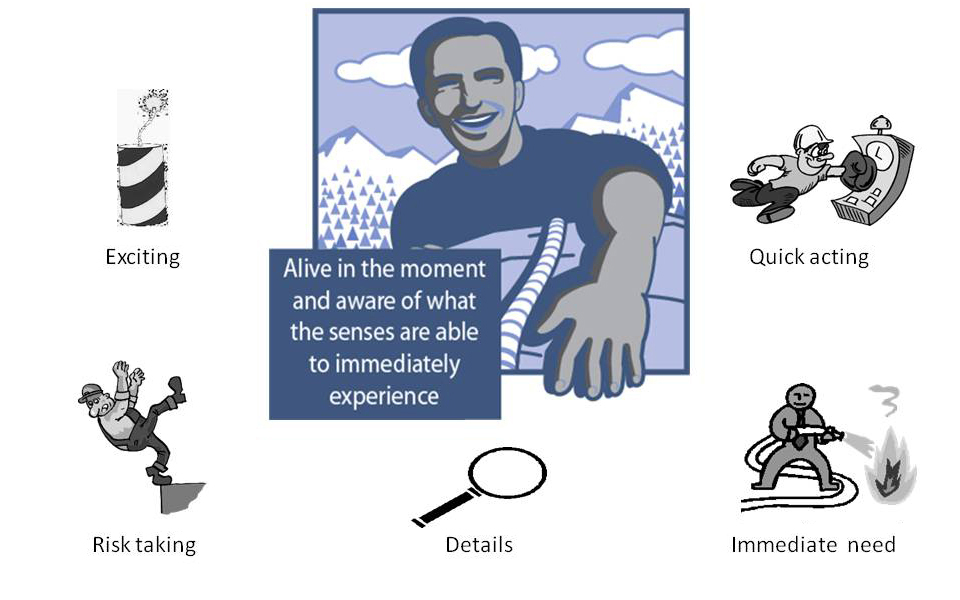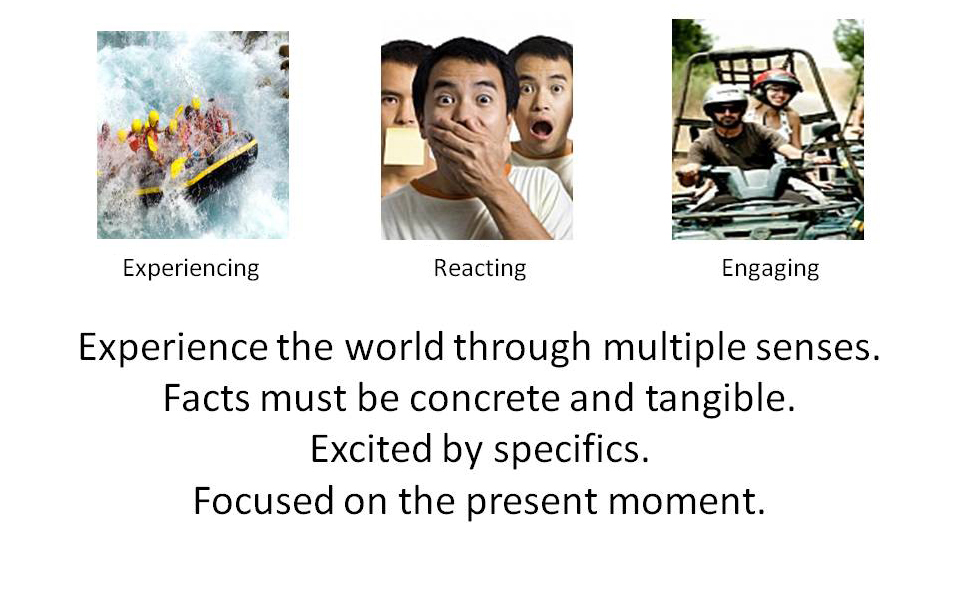 Now is about immediately engaging the world around us. We do this by perceiving information through any of our five senses. We might even be using multiple senses simultaneously. Remember we are talking about concrete information; otherwise, it would not be information we perceived through one of the senses.

The Now function triggers an immediate reaction to or an engagement of what is perceived, so it may appear as if one is quickly changing from one activity to another or shifting interest quickly from one thing to another.

People who prefer to or naturally use Now to acquire information report liking to "live life to the fullest" or "live on the edge". Often the physical risks are exciting. They also report doing things or saying things that get a recognition or a reaction from others in the moment.
Stabilize
Look to the past, traditions and what worked and focus on consistency
Stabilize is abot keeping an internal database of details that have been learned in the past. Stabilize compares today's data with past data to make an informed decision. People using Stabilize tend to check their memory, make comparisons to the past, and in general look to the past to verify information.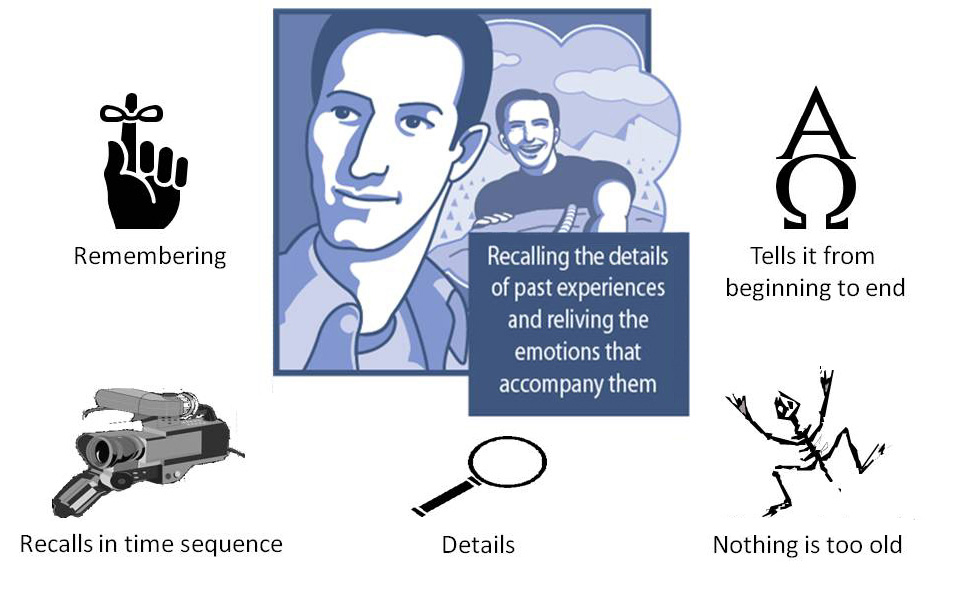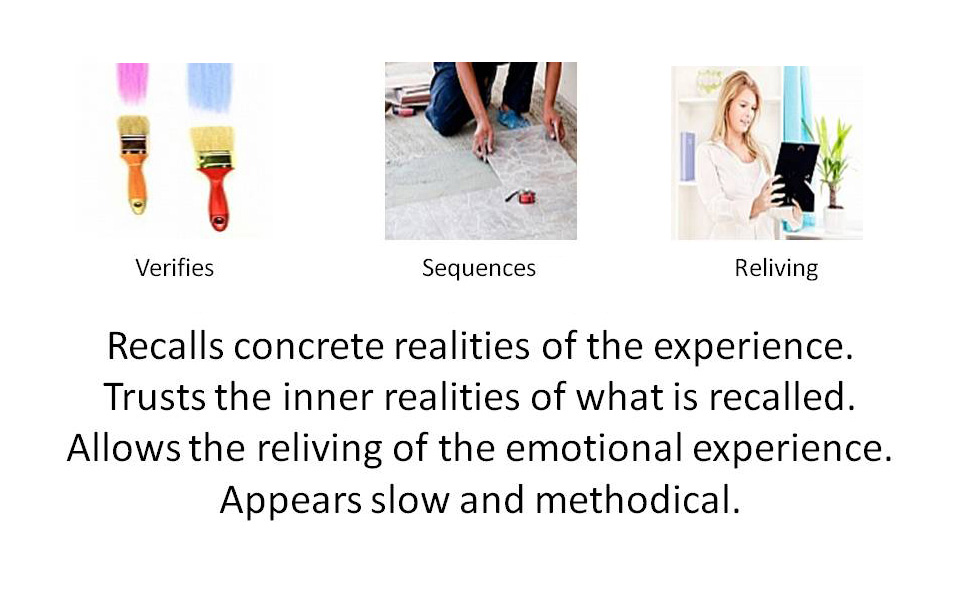 Stabilize is about checking out the present information by comparing it to previous experiences with similar information. We do this by recalling and reliving the past experiences in our lives. These are concrete experiences that include the emotional experiences or reactions we had to the experience being recalled. The recalled experiences are recalled from start to finish and if they are shared everything from start to finish must be shared.

When active, Stabilize might appear to be slow in responding or unmoved by the present moment. This is because the focus is not on the present event. Instead it is on examining all past similar experiences.

When people who prefer, or naturally use, this mental function share the experience it is as if they were sharing the video tape that is playing in the brain. They also know that the devil is in the details, so expect them to be uncomfortable leaving out the details when they are talking and wanting you to include the details when you are talking.

Recognize that the experiences being recalled may have occurred eons ago, yet they are being talked about as if they only occurred yesterday.
Invent
Look to the new and different ideas and explore many possibilities
Invent is about brainstorming, a verbal questioning to identify patterns that provide insight. People using Invent tend to prefer seeking answers through brainstorming, identifying patterns and innovation. Invent looks outside the box for answers, seeking something new.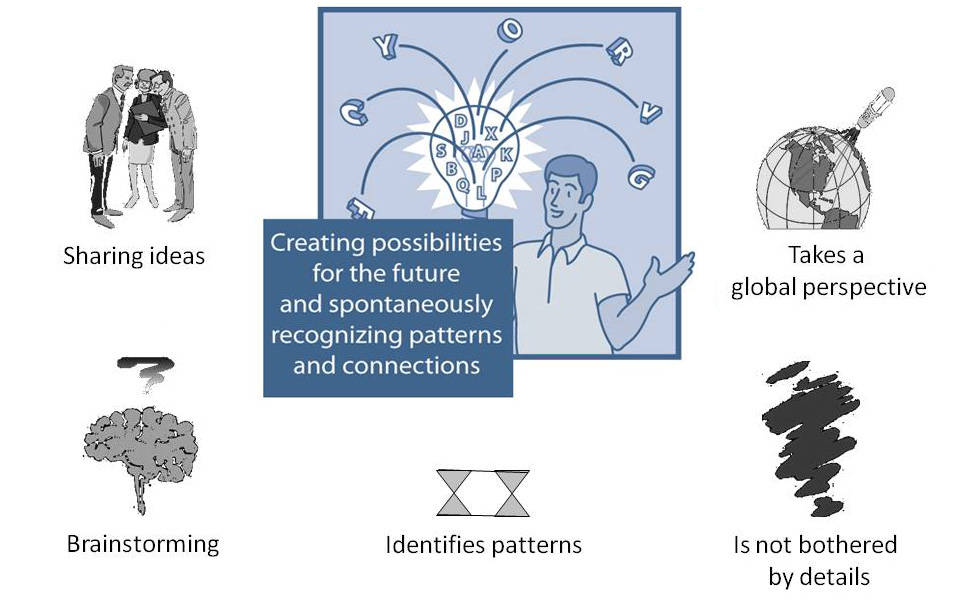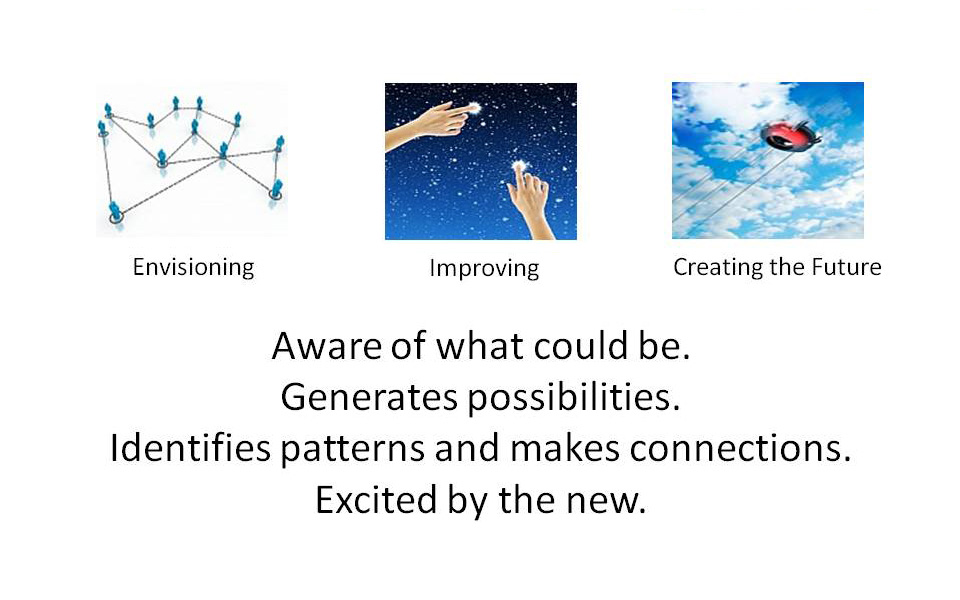 Invent is about identifying possibilities and opportunities related to what is happening in the real world. It is generating new ideas based on old ones. It is creating new ideas based on what someone else has shared. It expands one idea into many possibilities without the need for precision or detail.

Invent when active in a positive way tends to view the opportunities and possibilities positively. Information shared through this function may seem to be superficial or broad brush as the details or what is beneath the surface can be filled in later. The expressions tend to be global in nature.
Insight
Look to how things connect, the future and predict possible outcomes
Insight is about the process of identifying seemingly disconnected patterns to result in instant insight into a problem or situation. When using Insight people tend to visualize their goal or end result, focus on strategy, synthesize data almost unconsciously and predict results with surprising accuracy. Insight looks to and visualizes the future for answers.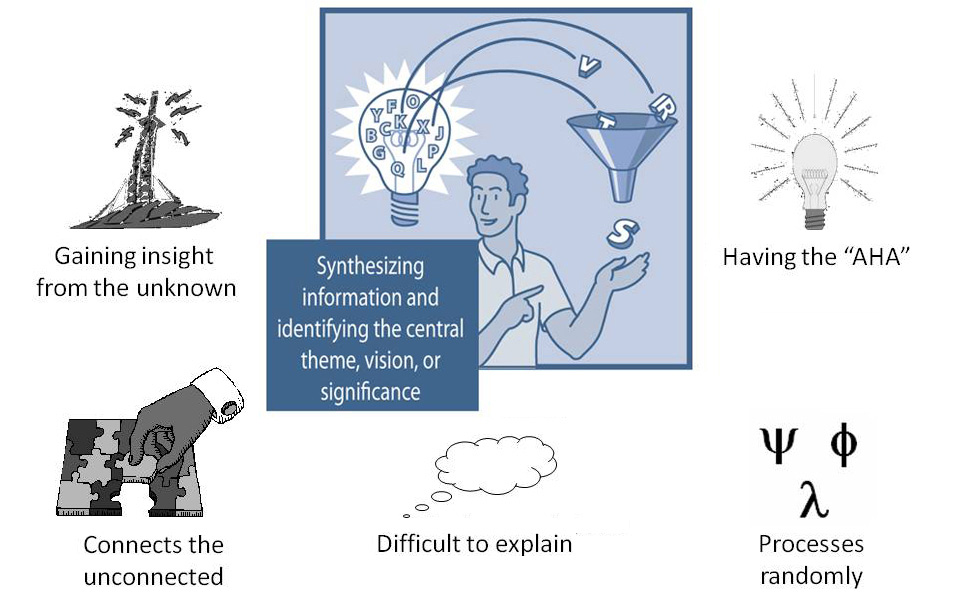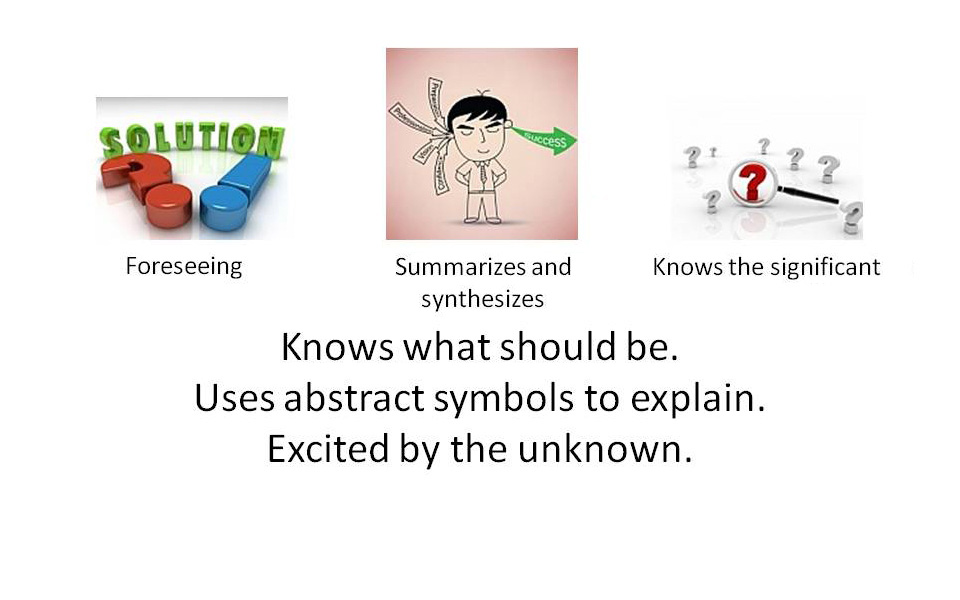 Insight identifies the opportunity or possibility that is the "best" without really knowing how it was identified. It is like a receiver getting signals from an unknown TRUSTED source. It tends not to focus on intermediate steps instead focusing on the end goal. One might connect with Covey's "Start with the end in mind" as an introverted intuiting approach.

The insights that are received are like nuggets of gold; however, often the person receiving the nugget does not know how to immediately explain it to others so that they perceive it as a nugget of gold as well. This is often because the nugget appeared as a flash of light or insight without supporting information, so when one attempts to explain why the insight should be trusted the mind is blank. Reflection time is almost always needed to allow some bits of information to drift into consciousness to support the value of the insight. Memory is symbolic and images and ideas are ever-changing.
Execute
Decide based on measurable goals and drive towards objectives
Execute is about plans, organizing, schedules, and measures. Execute structures the decision-making process by directing and interacting with other people. Execute focuses on measurable goals. When using it, people tend to think out loud, notice quickly when something is out of sequence or order, set objectives and criteria for success, and create step-by-step procedures. Execute looks to influence and organize the world, even when not solicited to do so.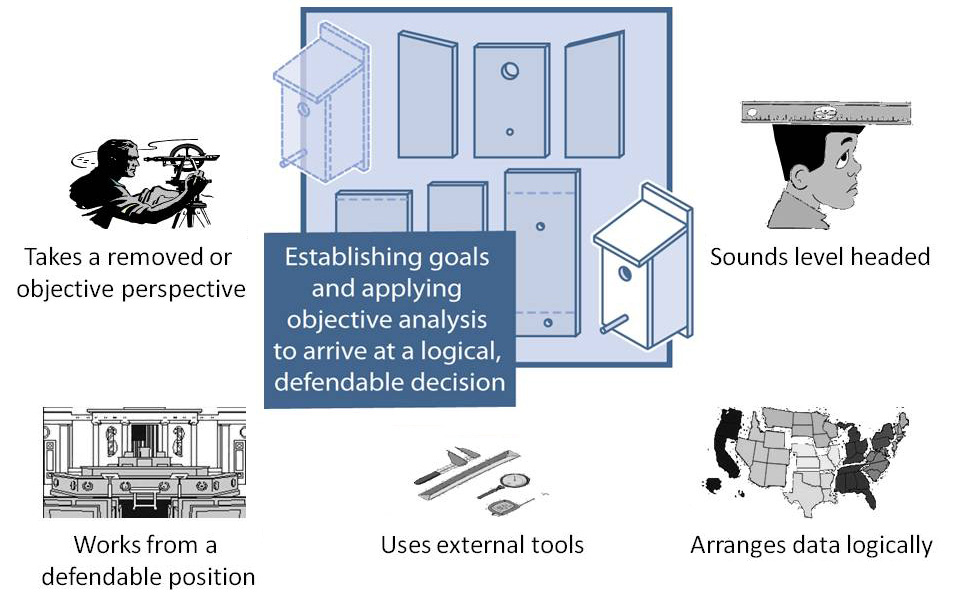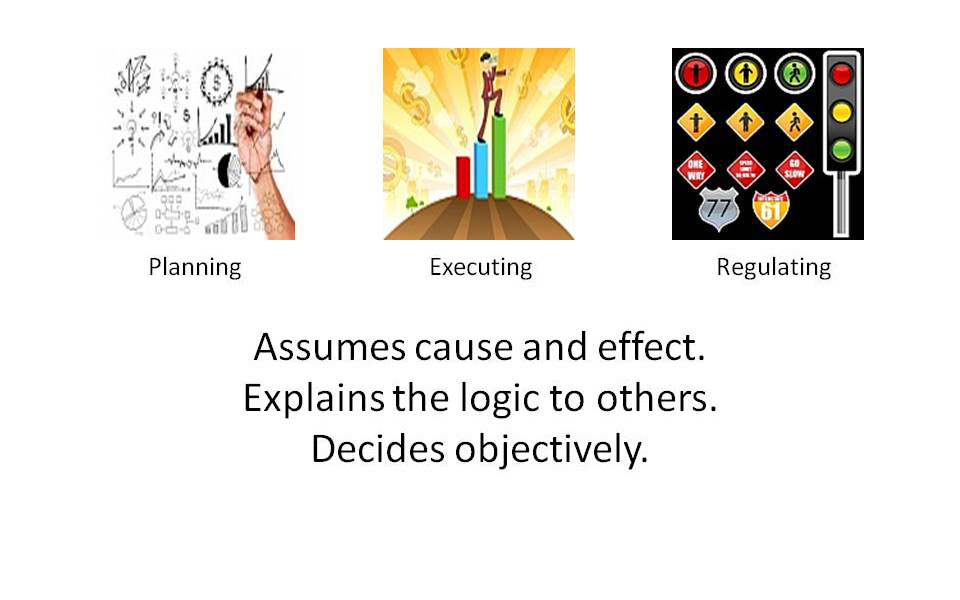 Execute uses accepted tools and techniques to evaluate the information much like surveying instruments are used to determine a specific location. This process organizes information in an orderly manner so the information can be analyzed objectively or impersonally.

With Execute everything is supported with logically analyzed data. Execute analyzes information within specific boundaries. Western states are different from northeastern states. We can think of Execute as establishing boundaries for the problem or boundaries regarding information that will be considered. Execute involves living by specific rules, regulations and laws and believing others should, as well.
Analyze
Decide based on logically correct or incorrect and evaluate the best approach
Analzye is about using an internal, logic-based decision-making process that focuses on what is correct or incorrect. When using Analyze people tend to look inside before making decisions, using their mind to create order, to organize and categorize information, identify anomalies, deduce probabilities and understand how things work.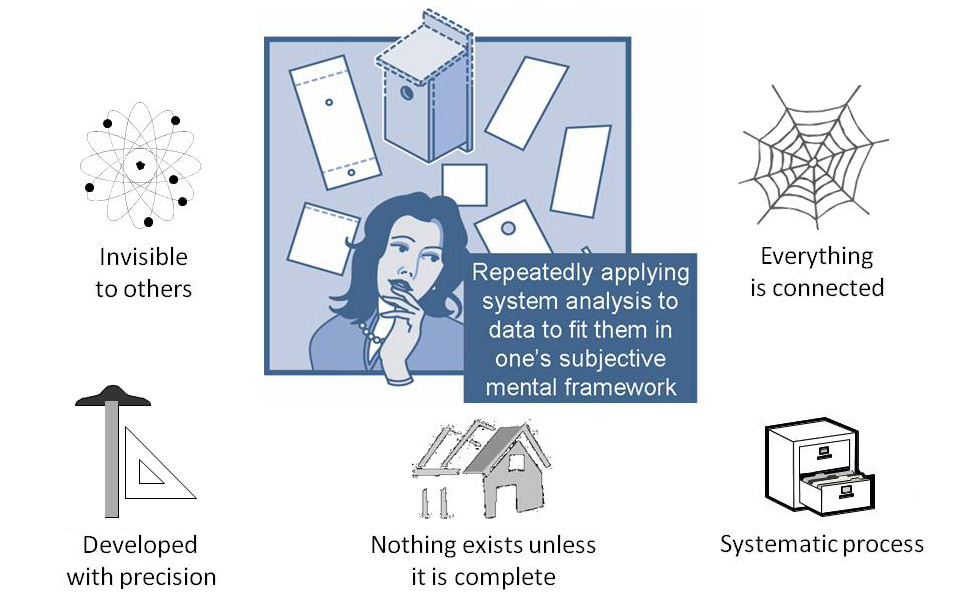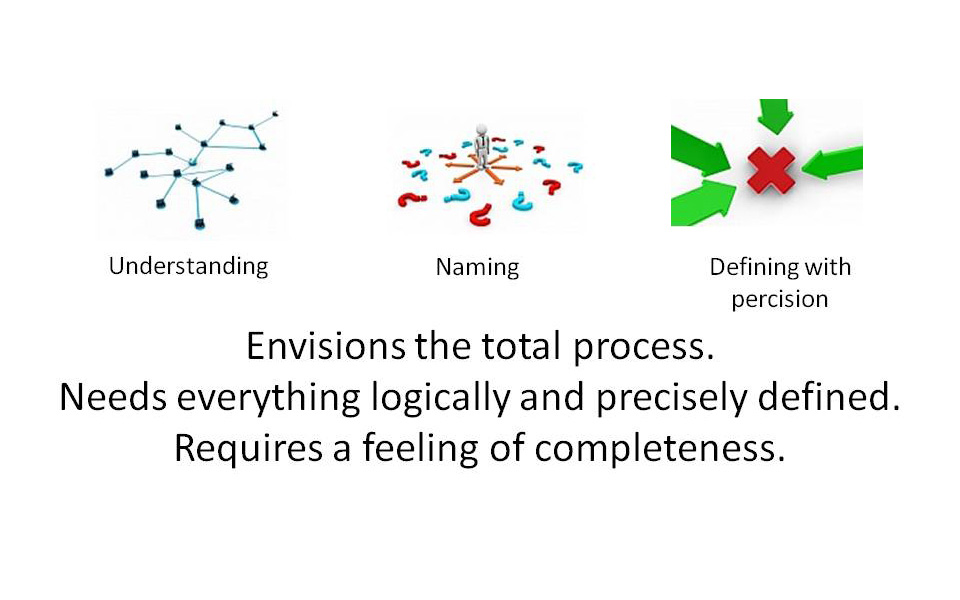 Analyze evaluates information based on how consistently and precisely the information fits within established internal systems or frameworks.

These frameworks are built with precision and take a long time to be completed; therefore, they are not going to be quickly discarded in favor of a different framework. Because this is an introverted function the framework or system is not visible to others. Others often do not get a glimpse of the framework until they arrive at a decision that is not consistent with the framework, at which time they get to witness the volcanic explosion.

One can think of Analyze as an internal filing system. Each file contains sub-files, which contain sub-files, and so-on. Thus, when one is using Analyze, the time it takes to evaluate information may take a substantial amount of time, as the person must check to see if the information fits within one's complex filing system. If there is no place in the filing system for the piece of information to go, it will be rejected until more information is received.
Consideration
Decide based on people's needs and empathize with others
Consideration is about giving the other person's personal needs high importance in making a decision. Consideration gives priority to the feelings of others. When using Consideration people tend to be friendly and considerate, try to create harmony between other people, act with kindness, and will disconnect with people who do not show that they care. Consideration looks to help others grow.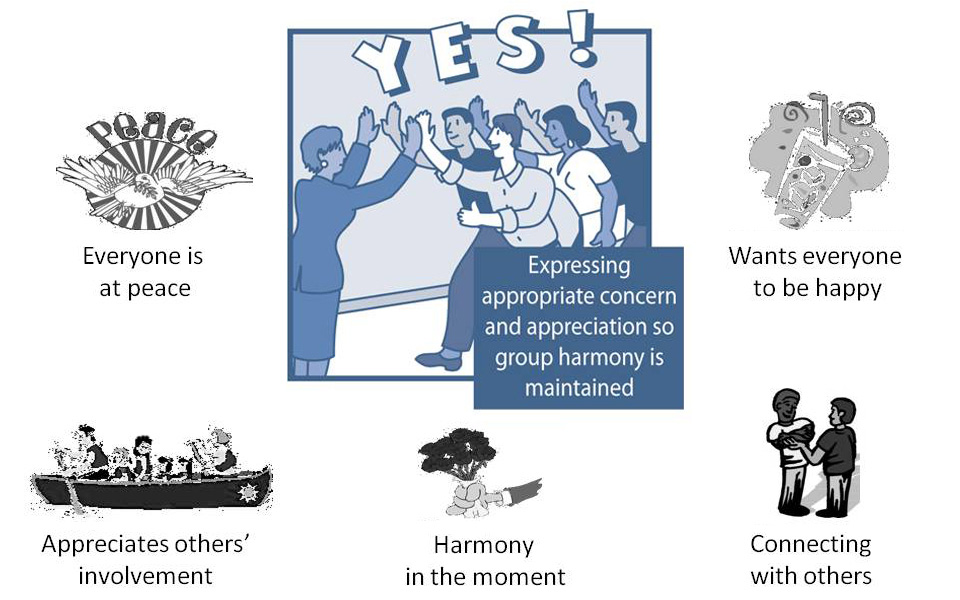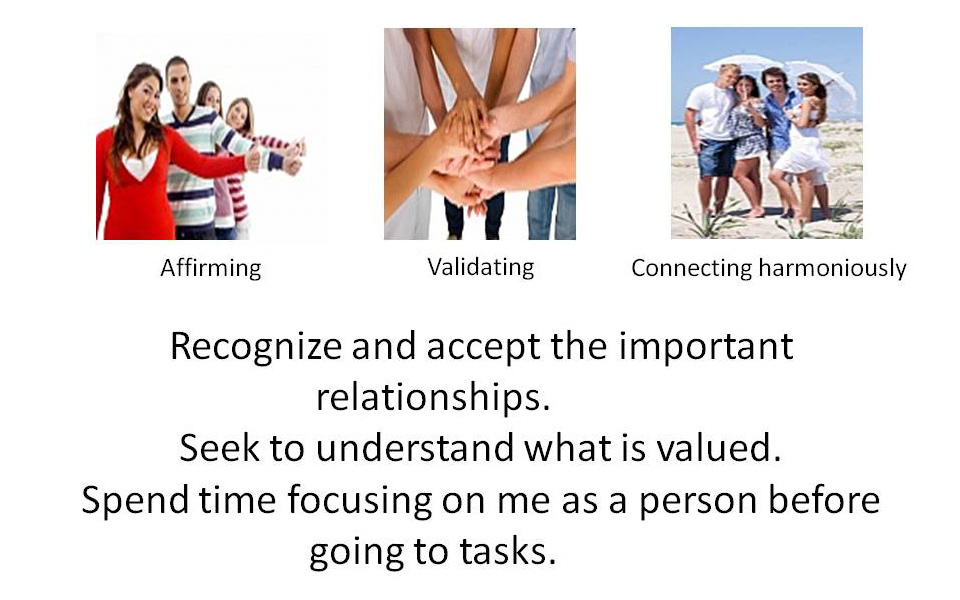 Consideration is about tuning in/noticing/reading the mood or the practical needs of others and then addressing or satisfying those needs.

Consideration is genuinely 'other focused.' It is the mental function used to assess how others will react to certain decisions. It involves knowing the appropriate thing to do and is satisfied when others are content and working together.

This function evaluates based on the possible impact on others. It strives for peace externally or peace among others and is about making sure others are not disturbed, annoyed or in conflict. Consideration involves conversing and connecting with others, being with others, appreciating others and celebrating with others. It's all about 'others.'
Value
Decide based on ethically right or wrong and sync with individual values
Value is about aligning personal missions with being understanding. Value decides in a way that promotes win-win solutions with the priority on other people's feelings and their own personal ethics and morals. When using Value people tend to make decisions that focus on what is right or wrong according to their own internal values. They then expresses their internal values through external actions.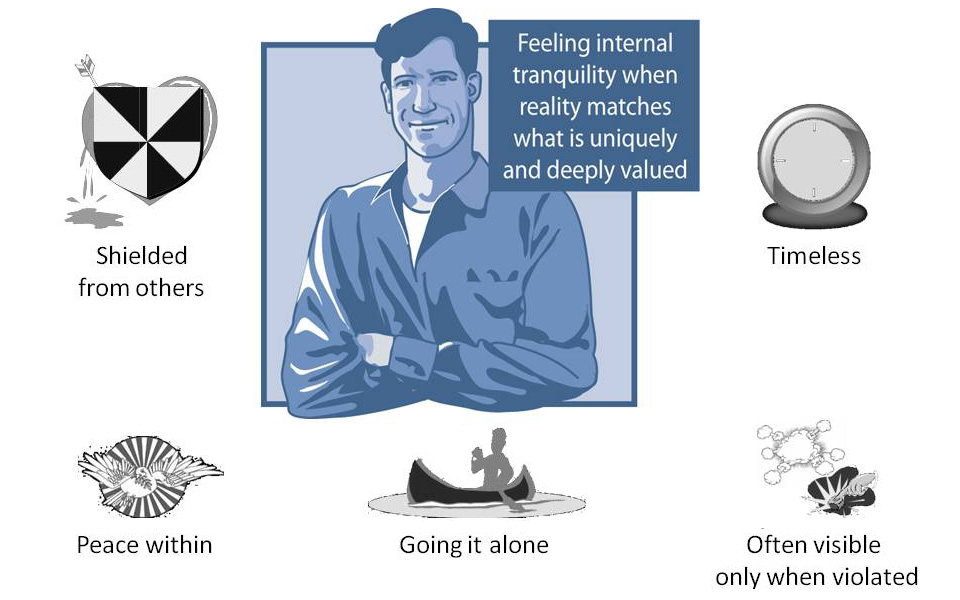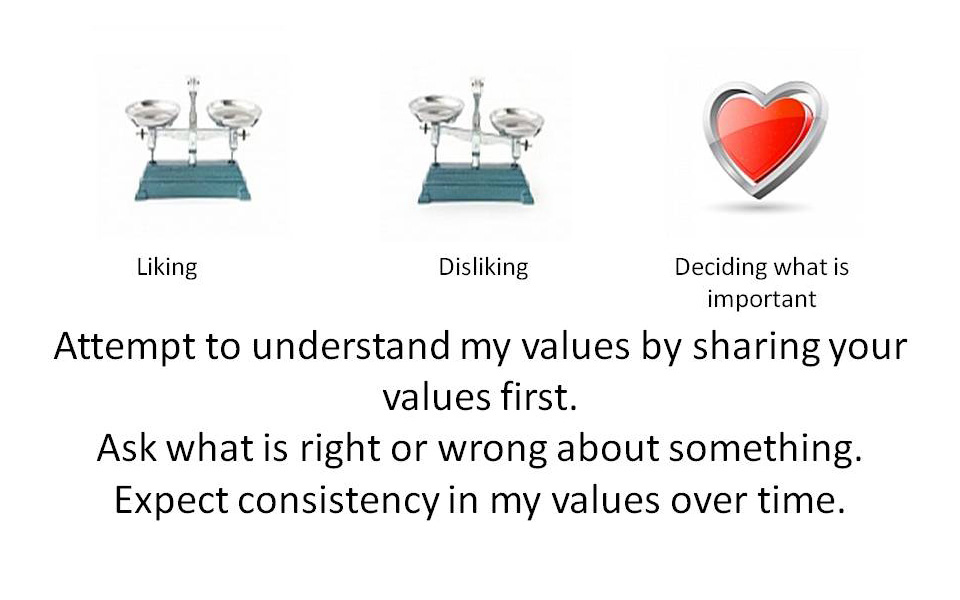 Value evaluates information based on one's unique values. It is easy for one to apply these values to identify what is right, but it is difficult for one to explain to others what one is using to determine what is right.

These values are shielded and protected from attack by others and thus may make us feel alone, vulnerable, or even on the defensive. There is a bit of mystery as to who this person is and there is a sense of tranquility and personal serenity. The values involved change very little, if at all, over time.

When these values are attacked, the reaction is often as shocking to those triggering the reaction as it is to the one who is reacting. It is as if a sudden, unexpected explosion has occurred that is the opposite of the serene inner harmony that is generally sought. Value strives for peace internally or an internal calmness and sense that everything is right.