Polish Documentation
---
Polish is your writing in the margins and highlighting the good bits. Polish lets you strike what doesn't fit, and make a task for something you are going to work on.
Polish is here to ensure you have the final say on yourself.

Activating or Deactivating Polish
When you open and read any Report, Polish is automatically activated.

You will see that yellow Polish icon at the top left of your Report menu (right above your name).
Click that yellow icon to open your Polish Control Panel.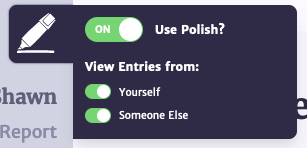 From here you can turn Polish on or off with a simple toggle.
Using the Polish Tooltip

When you select any text within your Report, you will see a little tooltip pop up above the center of your selected text.
Highlight What Matters Most
When you see a part of your report that speaks to you, and feels like it is MOST you, use the Highlight tool.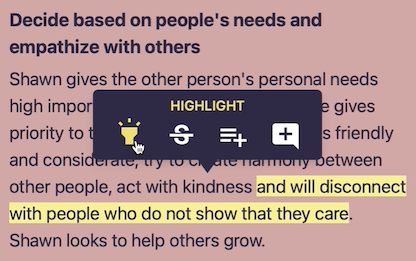 Strike The Parts That Don't Fit
Use the Strike tool to cross out the parts that do not match you, or you don't feel they represent who you are.

Make A Task For Reaching Your Goals
Often when reading your Reports, you may think 'OK, I'm gonna work on that one.' We've made it considerably easier to keep track of those times with the Task tool. Simple select the text that represents your Goal, and it will be saved in your Polish Journal ready to track.

Leave A Simple Comment
If you see a part of your Report that you want to leave a comment on, without defining it as 'You' or 'Not You', simply select the Comment tool and leave your comment.

Commenting On Entries
On each tool you use from above (Highlight, Strike, Task, and Comment) - you can write a comment inside the tooltip popup, and submit that comment along with your Entry.
You can also add comments to Entries after they've been submitted, by using the Polish Sidebar on the right.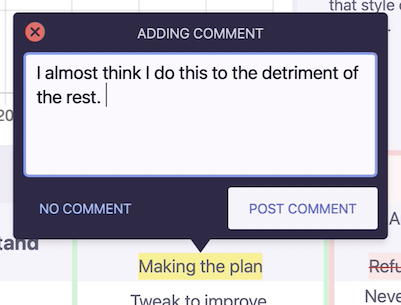 Reading & Replying to Entries
You can easily review and reply to all entries posted on the Report Chapter you are currently viewing, inside the Polish Sidebar on the right.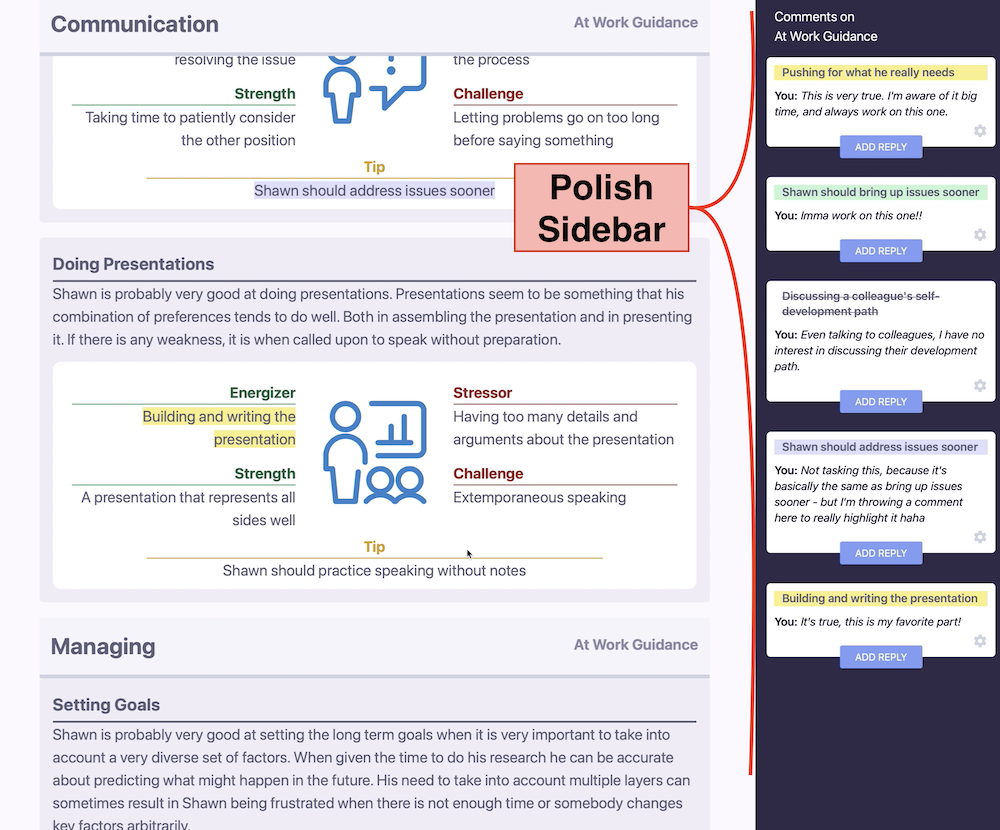 Easily reply to any Entry in the Polish Sidebar by clicking Reply at thebottom of the Entry.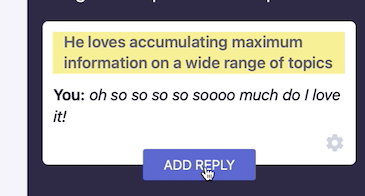 Once you've written your reply, click 'Post Comment' and your comment will be saved and attached to that entry, in that Report Chapter.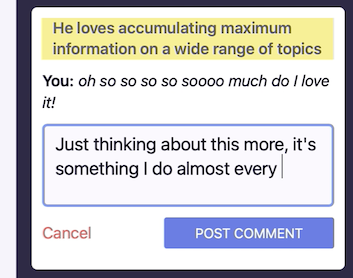 Deleting Entries
If you wish to delete an Entry from your Report Chapter, you can click the Settings/Gear icon on the lower right of any Entry, and reveal an Entry control menu.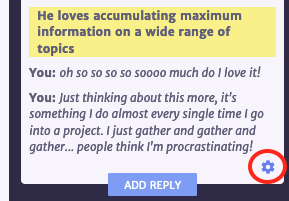 If you click the Gear, it will display a Delete Entry button. Simply delete the entry and it, and all of its comments, will be gone for good!

What is Archive
Sometimes, when we update a Report Chapter, content can either be deleted completely, or shifted around in such a way that it makes it impossible for Polish to know where your Entry was in the Chapter anymore.
Since we don't want you to lose anything, your Entry is moved from Published Entries, to Archived Entries.
Viewing the Archive
Viewing the Polish Archive is simple! You toggle 'Show Archived' and you will see all Entries, including your Archived entries.